Vehicle Fires and the Dangers of New Technology
Auto manufactures have spent billions of dollars making today's vehicles the safest they have ever been, and that they are, with air bags, cushioned bumpers, crumple zones and boron steel post, they are literally built to wreck.
But, today not one is built to burn.
.
In an effort to absorb impact in low speed crashes, manufactures began putting nitrogen filled gas struts on their front and rear bumpers in 1973.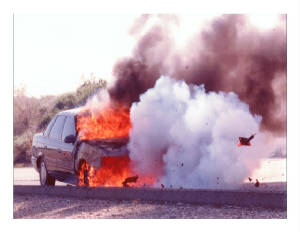 Click picture to enlarge
It didn't take long for the fire service to realize that these would explode in a vehicle fire. We began training people to approach diagonally to the corner of the vehicle, so as to be out of the path of one of these should it explode, for years this has been a standard procedure that is taught nation wide.
Today this is the most dangerous component we face as firefighters. Not because of its explosive properties, though they still exist and must be taught, but because it is the only danger firefighters are being taught to avoid.
What is worse, is that 95% of the vehicles on the road today do not use bumper struts.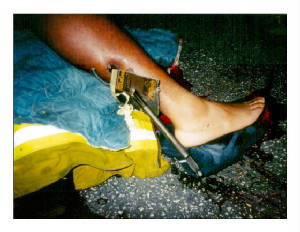 Click picture to enlarge
On Nov. 21, 2004 Drew Hill a Windsor Locks, CT firefighter was just one of the many, injured by an exploding gas hood strut while fighting a vehicle fire.
The fire was confined to the engine compartment. Drew was attempting to open the hood, by releasing the hood latch with a halligan bar, when the passenger side hood strut exploded and fired through his bunker pants, boot and lower leg.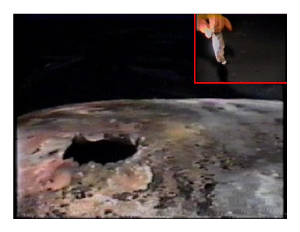 Click picture to enlarge
Today we see whole airbag housing exploding and exiting through the roofs and doors.
In the right hand corner you will notice that; Further into the investigation, large pieces of shrapnel were found 100 feet behind this vehicle.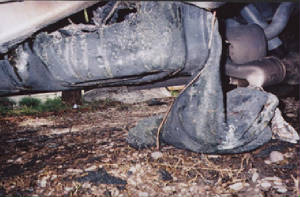 Click picture to enlarge
Plastic Gas Tanks
Like all plastics, polyurethane melts at very low temperatures and with these tanks holding from 15 – 28 gallons of gas, a person can only imagine the results if one dropped its heated load under a burning vehicle.
Yet today we are still teaching firefighters to approach the vehicle diagonally to the corner, putting them right in the ring of fire, if this were to happen.
Is it time to change our training Yet?
Many today are still not properly trained in the tactics of our old attack, and now we have dozens of new dangers, yet with an average of 290,000 car fires reported per year, they still put their lives on the line.
Click on the link below, and watch where they are walking and standing. This car is a 1976 Buick Regal we know it had bumper struts. Watch the fire over the right strut.
Vehicle fires at one time were a firefighter's fun and games. As you can begin to see, today's vehicle fires can be some of the most dangerous calls we will respond to and many changes are going to have to be made, not only in our approach to the vehicle but in the positioning of our apparatus, our entry into garages, our methods of attack and our absolute necessity for full protective gear.
This web site will take you through;
On the new technologies such as airbag systems, compressed gas cylinders and plastic fuel tanks as they relate to vehicle fires.
Power Point and Video Presentations
Vehicle Fires and New Technologies
(New version coming soon)
Ford Crown Victoria, Fire Suppression System
Actual Incidents:
NJ. Car fire a few months back... we were pulling up and had just laid out the line....all of a sudden BOOM. I looked back from where I was at the pump panel to see air bag fragments fluttering down from the sky. It was quite awe inspiring. I'd say the pieces blew about 25 feet in the air. I can't remember if they flew up thru a sunroof or the burned out windshield. The fire was in the passenger compartment of a newer model minivan. It started under the dash and consumed the interior. Tnankfully none of the guys were that close yet. Best way to handle these fires is a straight stream from a distance til its all darkened down and cooled off.
As for air bags; The industry will claim they do not react in fires but I have witnessed two steering columns explode during suppression operations. One of these created a shrapnel hazard when the retaining ring went through the roofs sheet metal.
Ab, Canada: We arrived on scene a few years back to a Volvo sedan on fire. Pulled past the vehicle about 20 yards off its rear quarter, upwind, and we just stepped off the rig to pull a couple of lines when, BOOM, the front bumper let loose. After the fire was out we measured the distance the bumper flew. Left side went 127' the right side 121' it split in half just as it blew.