___________________________________________________________________
In this series you will find a complete in-depth study of:
How these system work

What makes them work

The dangers they present us

How they affect our rescue efforts and

The unique EMS concerns involved in their deployment
Note: We also have a study of the adverse use of airbag systems for law enforcement. For safety concerns these are not made public. They can be obtained by contacting us direct.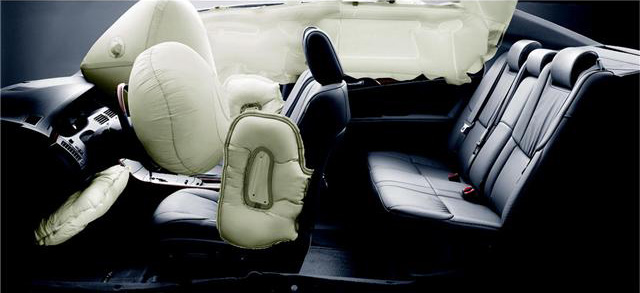 Courtesy of Toyota
Our objectives is to provide first responders with the most comprehensive, up to date, information on today's supplemental restraint systems, their components, the dangers they present us and how they affect our rescue efforts.

Today's vehicles are the safest they have ever been.
However; as automotive technologies increase, so do the problems,
dangers and challenges for rescuers.
Today, in the US, we face an average of six airbags per vehicle as standard equipment, two of which are dual stage, along with options for as many as twelve per vehicle. Depending on the types used, these twelve can be located in sixteen different positions. In other countries they have as high as twenty two airbags per vehicle and some of these will be introduced in the US in the near future. These operate in conjunction with seat position sensors, occupant position sensors, weight sensors, seat belt tensioners, seat belt tension sensors, and on and on, all of which present their own unique challenge for the rescuer.
In our studies, we hope to raise an awareness of the many new technologies found in today's vehicles, the dangers they present to us, and the desperate need for a change in our training.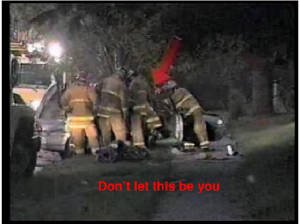 Though rare in our field
Accidental Airbag Deployment
is a reality
Don't Let This Be You!

Electrical shut down
and the
5 - 10 - 20 Rule
They are not an option!

By Joe Benton
ConsumerAffairs.com
August 24, 2007
It was a pleasant evening and a nice conversation. A young woman and her boyfriend were sitting in a nearly-brand new 2006 Honda Civic.
The driver started the Honda, shifted the transmission into reverse, the passenger door closed and the Honda airbags exploded into the faces of the two young people sitting in the front seats.
That is the stuff that the ConsumerAffairs.com Lemon of the Week award was designed to honor.
Rosemary, the mother of the young woman driving the Honda Civic, told us that daughter's boyfriend "was talking to his brother, his brother closed the passenger side door and the airbags went off."
"Honda first said the airbags went off because the door was shut too hard," Rosemary told ConsumerAffairs.com. "Then they said it was an immaculate deployment and they don't know why they went off.